Five Ways to Get Involved in Outreach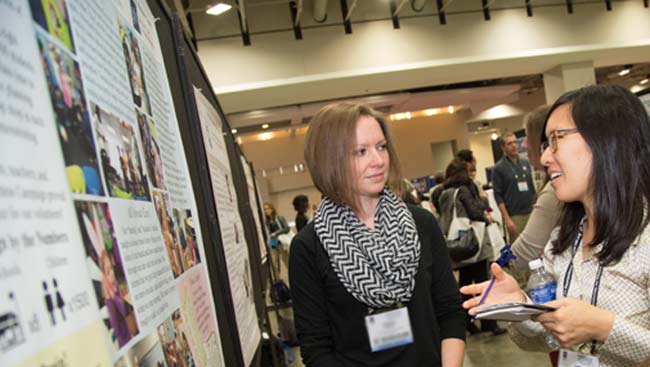 The goal of science outreach is increasing public awareness about brain research. All you need to move your love of science out of the lab and into the public sphere is a desire to communicate your science and an outlet for doing so.
I've educated the public about the brain in schools, libraries, and museums during Brain Awareness Week and throughout the year. You can also speak at colleges and universities, hospitals, community centers, and even malls.
Consider these five ways to participate in science outreach:
Engage children. Kids are the easiest audience for scientific outreach because they are naturally curious. Simple activities and demonstrations such as playing games and doing arts and crafts can get them excited about brain science. For example, every year I coordinate an event called, "I Lobe the Brain." I read a five-minute story and let the children explore displays around the room. They learn about the brain, neurons, and animals; touch sheep brains and cow eyes; and make pipe cleaner and candy neurons.
Conduct demonstrations using materials in your lab. At Nova Southeastern University (NSU), we use a portable EEG and EMG setup for demonstrations. We connect people to these machines and have them either relax or build anxiety. Then they can see the difference in the electrical activity and learn about how the brain processes information. Sensory illusions are also effective to show how the brain is wired and functions. At NSU, we've had people do taste bud counting and the two-point threshold, which tests the nerve sensitivity of an area of the skin.
Visit nursing homes or retirement communities. You can engage older citizens and retirees interested in learning who may have time on their hands. They typically ask insightful questions that can help you see the material in new ways and prompt you to question assumptions you've made about your research. Remember to choose a topic that is interesting to you and the audience. For example, I've lectured on the aging brain and the science of attraction, among other topics.
Share your science online to reach a global audience. Blogging lets you put a personal spin on your science and incorporate current events. With only a microphone and a camera, you can create and post videos on YouTube to share your science with a large audience. Twitter is another place to inform the public and even network and get quick advice.
Engage other students and faculty in your research. This is one of the best ways to spread the word about science. At NSU, we involve students by having them present their own research and other important concepts in brain science.
What is your favorite way to conduct outreach? Swap ideas with colleagues below.
Adapted from the webinar, Outreach: Supporting Your Career, Supporting Your Field. Find Leanne Boucher on BrainFacts.org, NeuroTV, and Twitter.