Surviving as a Minority Scientist in a Majority World
Source:

Icahn School of Medicine at Mount Sinai
Dec 19, 2019
This resource was featured in the NeuroJobs Career Center. Visit today to search the world's largest source of neuroscience opportunities.
Erich Jarvis, a neuroscientist and molecular biologist who is a professor at Rockefeller University and a Howard Hughes Medical Institute investigator, shares highlights from his science research, personal and professional journey, and lessons learned as an underrepresented scientist in this town hall talk at the Icahn School of Medicine at Mount Sinai.
Hear why his grandfather was a role model; how he wanted to be a magician, then a dancer, and then a neuroscientist; and ways he excelled in his training and early career, from publishing papers to winning awards.
Then hear eight advice-filled insights he has as an underrepresented minority, including how to persevere, how to overcome cultural shock and reach out to mentors, and why succeeding for him was the only way to not feel "less than."
Be sure to read the essay on which this talk is based, Surviving as an Underrepresented Minority Scientist.
Commitment to Diversity — #DiverseBrains
The Friedman Brain Institute leadership advocates unanimously for proactive promotion of diversity and inclusivity at all levels of all its activities both on campus and off campus. As a statement of this importance, we affirm that we will only participate in and organize symposia, panels, etc. that include women scientists, and we will work toward racial/ethnic diversity as well.
Speaker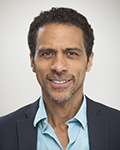 Erich D. Jarvis, PhD
Erich Jarvis is a Howard Hughes Medical Institute Investigator and the Head of the Laboratory of Neurogenetics of Language at The Rockefeller University in New York City. He previously worked as a professor at Duke University. Dr. Jarvis investigates vocal learning in songbirds and other animals as a model for understanding spoken language in humans. He integrates computational, behavioral, physiological, and molecular techniques to explore the neural genetics of vocal learning and the evolution of this complex behavior. He earned his bachelor's degree in biology and mathematics from Hunter College, his PhD in neuroscience, f completed postdoctoral training from The Rockefeller University.