Diversifying the Field Through Mentorship and Scientific Exposure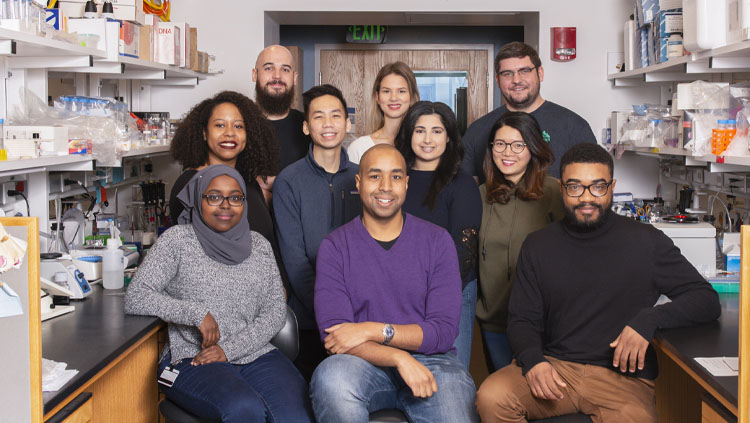 Photo from Anna Olivella Photography
Corey Harwell, an assistant professor at Harvard Medical School, aims to create a diverse, collegial, and collaborative lab environment. Part of that stems from the influence of his own ambitious and caring mentors who supported his career step-by-step, often by sharing new research opportunities he wouldn't have known existed. Here, he reflects on those relationships, his path into science, and his hopes for increasing diversity in the field, through exposing underrepresented minorities to science as a career path. His message to them, "We need you."
This interview is a complement to SfN's podcast series, History of SfN: 50th Anniversary. Guests on the podcast were asked to nominate individuals whose careers are making positive cultural or scientific impacts that will shape the next 50 years of neuroscience. Corey Harwell was nominated by Bill Martin, president and chief operating officer of Blackthorn Therapeutics.
How did you become interested in a research career?
I always had an interest in biology, so I went into college thinking I was going to be a doctor. My plan was to move back to Louisville, where I'm from, to open a family practice. At that point, I had never met a research scientist, so I didn't even know that was a career option.
One of my chemistry professors invited me to come work in his lab, and I agreed, but my motivation was just to make extra money. It ended up being a significant experience — my initial exposure to research.
That same professor encouraged me to join a program called Maximizing Access to Research Careers (MARC), which required students to go somewhere else for the summers to do research. My first summer research experience was in Cori Bargmann's neuroscience lab at the University of California, San Francisco. I felt very out of place, being a chemistry major with no previous experience in neuroscience or genetics.
I told her there must have been a mistake. She suggested that I stay for the rest of the week, and if it didn't work out, we could go back to the program and see if they'd assign me somewhere else.
I ended up staying all summer.
Seeing the students and postdocs be so incredibly passionate about their work made an impact on me. It was also the first time I made the connection that working in these model systems, even little roundworms, has implications for human health. So, all these factors made for an eye-opening experience that altered my career path.
What impact have mentors had on your career?
I had the right kinds of mentorship from the right people at the critical times in my career development, and that really made it possible for me to advance.
For example, I had come straight from college into grad school, but many of my classmates had worked a year or two as technicians. Compared to them, I didn't know how to do much at all in a lab.
My mentor, Elly Nedivi had this unshakable faith in my abilities to learn, progress, and grow as a scientist. Having someone with that confidence in me, even when I was still very much a work in progress, was critical during my early scientific development.
She was quick to communicate to all of us that our shortcomings and failures weren't defining features, but opportunities for growth to take place. She had high standards but was also our most vigorous, compassionate advocate, and that endures even now. Part of the reason I applied for my current job at Harvard is that she thought I'd be a competitive applicant, even though I wasn't completely convinced myself.
How have you seen diversity impact the field?
A unique aspect of science is that people from all over the world come into a research lab from different countries, cultures, and even scientific backgrounds. The institutions which have made some of the most excellent scientific environments are places where people come from all over the world to train.
Within the United States, the systems that have historically been in place to prevent certain groups from pursuing particular careers, or even occupying certain spaces has had a profound impact on the diversity of science in America. It created implicit expectations about who does and does not belong in these spaces. I'm someone who comes from one of those underrepresented groups who, to some, isn't necessarily "supposed" to be here. It's important to me to change that view.
If it weren't for many programs that came about when I was in college, like MARC, I would have never considered science as a career option. If I have the opportunity to mentor or expose students to science as a career path, then that becomes an important aspect to my research program. To me, it's an essential component of paying it forward.
I would say over the last ten years or more, it's been encouraging to see views evolve. People are recognizing that diversity is an important component to an active research enterprise.
What are you looking forward to about the future of neuroscience?
I'm optimistic about the future of science, especially with respect to diversity. A lot of my excitement comes from some of the young scientists who will soon be looking for faculty jobs, and that includes many traditionally underrepresented scientists.
I would say to them: This is an incredibly rewarding career. If you're driven by curiosity and a passion for science, and you have something to say with your research, not only is there a place for you, but we need you.
Speaker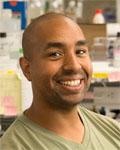 Corey Harwell, PhD
Corey Harwell is currently with Harvard Medical School department of neurobiology. Research in the Harwell lab is focused on understanding the genetic and epigenetic mechanisms that guide how progenitor cells in the brain choose their mature neural fates. A native of Louisville, Kentucky, Harwell obtained his B.S. in chemistry from Tennessee State University and his PhD in neuroscience from MIT.