How to Navigate Cultural Diversity
/p>
Victoria Puig delivered the 2016 Celebration of Women in Neuroscience keynote speech. She shares her story of working abroad and returning home, while also recounting learning various communication and leadership styles, building networks, and learning language to advance in her career.
Speaker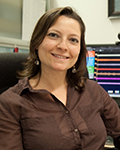 Maria Victoria Puig, PhD
Maria Victoria Puig is a group leader at the Barcelona Biomedical Research Park and Hospital del Mar Medical Research Institute. Her team studies the neural substrates of learning and memory enhancement, with a particular focus on neural oscillations and the role of neuromodulators. Puig earned a PhD in neuroscience at the University of Barcelona and completed postdoctoral training in brain and cognitive sciences at the Massachusetts Institute of Technology.