How This Early Career Scientist Hopes to Motivate Diverse Students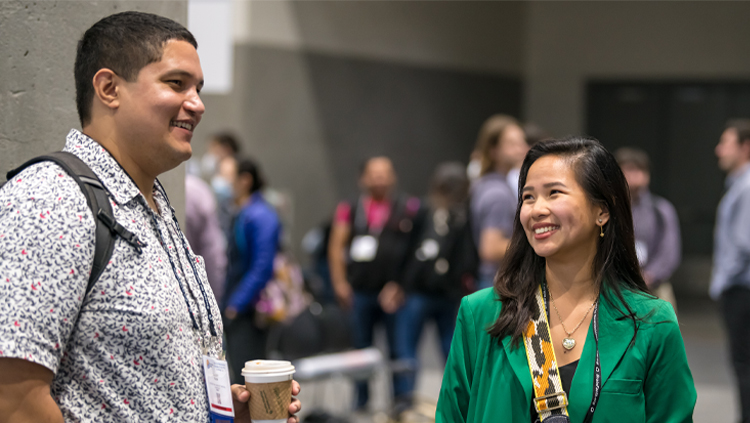 Monserrat Orozco is a graduate student at the University of New Mexico pursuing a PhD in biomedical sciences, with a specialization in neuroscience. She is also a 2023 SfN Early Career Policy Ambassador (ECPA). In this interview, she shares how being a first-generation, low-income, bisexual, and Chicana student has shaped her personal and professional journey, and how the field of neuroscience can benefit from allyship and the promotion of diversity, equity, and inclusion (DEI) initiatives.
Can you tell us a little bit about your background and how you got interested in neuroscience?
In 2020, I completed my undergraduate education at California State University, Los Angeles, where I obtained a degree in biochemistry alongside a minor in criminal justice. Upon graduation, I enrolled in a postbaccalaureate program at Indiana University–Purdue University Indianapolis, where my enthusiasm for science deepened. It was during this program that my passion for addiction neuroscience research solidified, leading me to apply for graduate school. I am currently a graduate student at the University of New Mexico pursuing a PhD in biomedical sciences, with a specialization in neuroscience. My research centers around the exploration of genes and genetic background in relation to substance use disorders, specifically the effects of repeated binge drinking on circadian rhythms and brain gene transcription. Also, I am currently participating in the Society for Neuroscience Early Career Policy Ambassador (ECPA) program, which promotes advocacy for federal and state support of neuroscience research.
My interest in the neurobiology of addiction started when I witnessed the devastating effects of drug abuse on a family member who struggled with an opioid use disorder (OUD). The rapid onset and deterioration of my family member's physical and mental health as a result of their OUD was a difficult situation for my family. Also, I saw the cause and effect of substance use disorders (SUDs) at a larger scale during my third year in college, while I was working with incarcerated individuals through the Prison Education Project. Hearing firsthand accounts from both juveniles and adults on how SUDs impacted their lives and the transition back into society sparked my interest to further understand SUDs by continuing to advocate for the incarcerated population and further the efforts to study SUDs through research.
What are one or more things that you have been excited about recently in your research?
One aspect of my research that I find particularly exciting is exploring the effects of binge drinking on circadian rhythms and investigating potential sex differences. By examining the effects of binge drinking on the body's natural timekeeping system, we can gain valuable insights into how alcohol consumption disrupts and alters the biological processes involved in brain gene transcription.
What has been your biggest career and/or personal achievement? What obstacles have you faced, how did you overcome them?
As a first-generation, low-income, bisexual, and Chicana student, I faced immense pressure and uncertainty. The fear of navigating the unfamiliar territory of higher education was overwhelming, and self-doubt often clouded my thoughts. One of the most significant milestones in my academic journey has been gaining acceptance into graduate school. The rigorous application process and competitive nature made it challenging, but I approached it with determination and a clear vision of my academic and professional goals. I invested countless hours in preparing my application materials, meticulously crafting my personal statement, and securing strong letters of recommendation from esteemed professors who believed in my potential. When I was accepted into my desired graduate program, a wave of joy and fulfillment washed over me. The pressure to succeed academically, navigate the complex college process, and chart a path towards a successful future felt overwhelming at times. I often questioned whether I had the knowledge, resources, and support necessary to overcome the challenges that lay ahead. However, I found solace and strength in the unwavering support of my family, community, and mentors. Their guidance and encouragement propelled me forward, helping me overcome obstacles and persist on my journey. Looking back, I am grateful for the experiences and challenges I encountered as a first-generation college student. They shaped me into a stronger, more resilient individual, and taught me the value of seeking support from loved ones and mentors.
Who in your life inspires or motivates you?
In moments of uncertainty and self-doubt, the unwavering support of my family is my anchor. Despite their own unfamiliarity with the college experience and challenges they faced as immigrants to the United States, they instilled in me a belief in my abilities and a determination to pursue higher education. Their continuous encouragement and sacrifices reminded me that I was not alone on this journey.
Additionally, my community played a vital role in providing me with a sense of belonging and connection. Surrounded by others who shared similar backgrounds and aspirations, I found solace in knowing that we were all in this together. Through shared experiences, we offered each other advice, understanding, and emotional support, creating a tight-knit support system that helped alleviate the challenges we faced as first-generation students and being part of the LGBT+ community.
Alongside this support, my mentors, both within and outside of my academic environment, played an invaluable role in guiding me through the complexities of college life and research. Their belief in my potential and their willingness to invest their time and expertise in my growth boosted my confidence and propelled me forward during moments of uncertainty.
How does the field of neuroscience benefit from the promotion of diversity, equity, and inclusion?
The promotion of diversity, equity, and inclusion (DEI) in the field of neuroscience brings new perspectives and insights to research, enriching our understanding of the brain and its complexities. By incorporating diverse voices, the field can challenge existing paradigms, foster innovative thinking, and generate new ideas. Additionally, promoting DEI in academia helps create a more inclusive scientific community, where individuals from underrepresented groups have equal opportunities to contribute and excel.
I am driven by a deep commitment to teaching and empowering students from diverse backgrounds. I firmly believe that education should be accessible to all and that every student deserves guidance and support to fulfill their own potential. As I embark on my graduate journey, I am eagerly anticipating the opportunity to share my experiences and knowledge with the next generation of students. Drawing upon my own journey as a first-generation student and member of the LGBT+ community, I am dedicated to serving as a mentor and advocate for students who face similar challenges. I aim to create an inclusive learning environment where students can thrive academically and personally. By sharing my own triumphs and setbacks, I hope to inspire and guide students along their own paths, helping them navigate the complexities of academia.
How can allies better support underrepresented communities within the workplace?
In order to better support underrepresented communities, allies in the workplace can take proactive steps to educate themselves about the unique challenges faced by these communities, such as systemic biases and barriers to success. By developing a deeper understanding, allies can effectively advocate for the rights and needs of underrepresented individuals, acting as allies and amplifying their voices in the workforce. Additionally, allies can actively seek out opportunities to mentor and sponsor underrepresented individuals, offering guidance and creating pathways to success in the academic landscape. Furthermore, allies can utilize their influence and privilege to cultivate inclusive spaces within academia, where underrepresented voices are genuinely welcomed, respected, and valued. By advocating for fair and unbiased processes, allies can help ensure that underrepresented individuals have equal opportunities to advance in their academic careers. This includes actively supporting initiatives that promote diversity and inclusion, such as encouraging the recruitment of underrepresented individuals in the workforce and participating in diversity training programs.