How SfN's DC-Area Chapter Is Working to Improve Recruitment and Evaluation Practices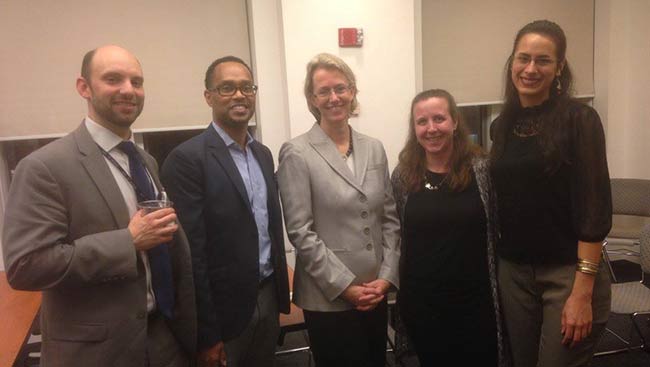 As a scientist and educator, I have been on both sides of recruitment and evaluation in academia and have seen how this process has opportunities to improve.
Recently, my Washington, D.C. metro area SfN chapter hosted its first official workshop to draw attention to these issues and their solutions using SfN's Increasing Women in Neuroscience (IWiN) Toolkit: Candidate Recruitment and Evaluation.
Attendees had the opportunity to learn about the challenges that women face in academic, industry, and government recruitment and evaluation. The workshop also gave chapter leaders an opportunity to answer commonly asked questions and provide a forum for sharing ideas, expanding current initiatives, and melding professional networks in the DC area.
Based on our success using the IWiN toolkit to initiate important discussions, I highly recommend it to raise awareness about these issues in your community. Consider what my chapter did to help you with your event.
Adapting SfN's Toolkit

The toolkit is designed so you can modify the structure of the presentation, content, and scope of the messages. Feel free to skip slides or topics that are not relevant to your audience. For example, you may want to focus more on recruitment than evaluation or vice versa, or extrapolate similar issues and strategies to other underrepresented populations.
Structuring Your Event

The toolkit provides a 30-minute presentation and additional discussion questions on various recruitment-related scenarios. This breakdown of activities worked well for us:
30 minutes: networking session with light refreshments
One hour: toolkit presentation (30 minutes for the presentation and 30 minutes for the audience to consider the discussion questions)
15 minutes: final remarks and questions
We divided the toolkit presentation among two speakers, my thesis advisor, Guinevere Eden, and myself. Co-presenting with another colleague is beneficial because it provides a more interactive dynamic with your audience. Having someone who is actively involved in recruitment and evaluation committees at the faculty level is also valuable.
Tailoring the Toolkit for Your Environment
By hosting a workshop, you can discover how implicit bias affects your institution and what solutions could be adapted to change the status quo. Carrying out the following activities will help you adapt the discussion to your environment:
Recognize the opportunities for improvement at your workplace or institution.
Identify your audiences so you can design a workshop based on their necessities, career stages, and job roles.
Contact colleagues who may be interested in presenting.
Reach out to professional or institutional organizations for support.
Feel empowered to increase awareness about these issues regardless of your career stage.
Research-based and easy-to-personalize tools like the IWiN toolkits are critical for change and should become part of required trainings. Take advantage of this helpful resource and check out the second IWiN module focused on implicit bias.
*Photo provided by author.