How Challenges Can Bring Change
Diversity — or lack thereof — can make or break neuroscience discovery. With departments still struggling to retain women and underrepresented minorities, it's clear that change is needed. In this video, Jennifer Raymond explains from the administrative perspective:
Where women and underrepresented minorities are dropping off in the academic pipeline.
Why are both men and women choosing non-academic careers?
What interventions can lead to better diversity and retention rates?
Speaker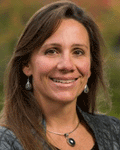 Jennifer Raymond, PhD
Jennifer L. Raymond is an associate professor of neurobiology and associate dean, Office of Faculty Development and Diversity, at Stanford University School of Medicine. She received her BA in mathematics from Williams College and her PhD in neuroscience from the University of Texas Health Science Center, Houston, and was a postdoctoral fellow at the University of California, San Francisco. Her research aims to understand the algorithms the brain uses to learn. This work will inform the design of machines with computing and learning capacity more closely approximating humans, and will inform efforts to optimize learning and other brain functions in health and in neural circuits damaged by injury or disease. Jennifer has initiated a number of programs at Stanford to improve graduate education and training outcomes, for which she was awarded the Stanford School of Medicine's Graduate Teaching Award and the Stanford Biosciences Excellence in Diversity Award. As a member of SfN's Education Committee and Committee on Neuroscience Departments and Programs, she has worked on best practices in scientific training at the national level. As associate dean, she focuses on redesigning the faculty career track to attract the next generation of scientists.