You Can Teach Neuroscience at a Secondary School
Learn how rewarding teaching in secondary education can be. Paul Cammer discusses his decision to move into high school teaching from research, and how much others in the field can get out of making a similar move.
Speaker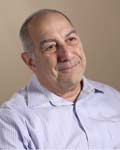 Paul Cammer, PhD
Paul Cammer is a consultant to the principal at the Princeton International School for Mathematics and Science in Princeton, New Jersey. Previously, he was a special advisor to the principal at Ren Da Fu Zhong in Beijing and director of the neuroscience research laboratory at Thomas Jefferson High School in Alexandria, Virginia. He received his MS and PhD from Purdue University.