Why Work in Pharma? Two Words: Collaboration Opportunities
Pharmaceutical research allows scientists to work as a team on projects that develop treatments for different neurological problems. Bill Martin discusses how working in industry has aligned with his career goals and allows him to contribute to many aspects of each project.
Speaker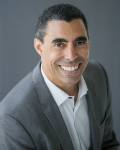 Bill Martin, PhD
Bill Martin leads the neuroscience therapeutic area of Janssen Research & Development, LLC in discovering and developing important new therapies for people living with brain disorders. Prior to joining BlackThorn, Martin worked at Theravance Biopharma, where his responsibilities ranged from drug discovery and development, to research portfolio planning and business development. He is the chair of SfN's Government and Public Affairs Committee. Martin graduated from Swarthmore College and earned his PhD from Brown University. He conducted postdoctoral research at the Keck Center for Integrative Neuroscience at the University of California, San Francisco.