"We Are Still Alive As Scientists": A Ukrainian Scientist's Story of Perseverance
Nana Voitenko, PhD, an SfN member based in Kyiv, Ukraine, and her lab members kept working even as Russia invaded Ukraine in February 2022. Her work, which is focused on how the immune system affects chronic pain at a molecular and cellular level, was halted, however, October 10, 2022, as Russia launched missile airstrikes on Kyiv and across Ukraine. In this interview with Voitenko, hear how the war in Ukraine has altered her life and research, and how scientific communities like SfN are more important than ever before.
Speaker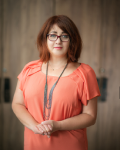 Nana Voitenko, PhD
Nana Voitenko, PhD, is the current rector of the Dobrobut Academy Medical School in Kyiv, Ukraine, and a professor at the Department of Biomedicine and Neuroscience of Kyiv Academic University. She has an undergraduate degree, master's degree, and PhD in biophysics from the Moscow Institute of Physics and Technology with her doctorate completed at the Kyiv branch. Her research interests are in the areas of the central and peripheral mechanisms responsible for the initiation, maintenance and recovery from persistent pain arising from peripheral inflammation and neuropathy. Voitenko also serves as a member of the Scientific Advisory Board of International Symposium on Experimental and Clinical Neurobiology in Slovakia and is a governing council member of the International Brain Research Organization (IBRO). She has served as president of the Kyiv Chapter of the Society for Neuroscience since 2008 and is the founder and vice president of the Ukrainian Society for Neuroscience since 2006.