Travel Worldwide and Learn About the Latest Discoveries as a Science Writer
A career in science writing allows you to explore the newest and most exciting discoveries in neuroscience and use your passion for writing to explain them to the world. Greg Miller discusses how his jobs at Science and Wired led to amazing opportunities to travel around the world and have allowed him to meet fascinating people from every walk of life.
Speaker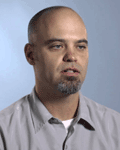 Greg Miller, PhD
Gregory D. Miller is the chief science officer and executive vice president of research, regulatory, and scientific affairs for National Dairy Council (NDC)/Dairy Management Inc. He is also an adjunct associate professor in the department of food science and nutrition at the University of Illinois. Gregory graduated from Michigan State University with a BS in nutrition and earned an Master's degree in nutrition (toxicology) and a PhD in nutrition (toxicology) from Penn State University. Gregory is an editorial board member of the Journal of the American College of Nutrition, The Journal of Nutritional Biochemistry, Current Nutrition & Food Science, and Mature Medicine Canada. He is an editorial adviser for Dairy Foods. He served as president of the American College of Nutrition and president of the Penn State Nutrition and Dietetics Alumni Society.