The Ins and Outs of a Career in Government
Explore how to use your science degree to do outreach and program management in government. Michelle Jones-London discusses her career at NIH, including how to get started, what brought her to the field, and how a typical day is never typical.
Speaker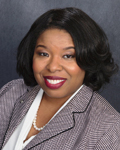 Michelle D. Jones-London, PhD
Michelle D. Jones-London serves as chief of the Office of Programs to Enhance Neuroscience Workforce Diversity (OPEN-WD). In this position, Jones-London plays a critical role in guiding the Institute's diversity efforts and chairs the NINDS Diversity Working Group. Jones-London is also a program director at NINDS. She earned her PhD in neuroscience from the department of neuroscience and anatomy at Pennsylvania State University College of Medicine. Her research interests have focused on understanding monoaminergic neurotransmitter regulation and mechanisms of behavioral psychopharmacology in animal models of disorders such as ADHD, Tourette Syndrome, and depression. Her trans-NIH efforts include oversight for the NIH Blueprint ENDURE and DSPAN (F99/K00) programs and the BRAIN Initiative Diversity K99/R00.