Insights to Make Smart Career Transitions
This resource was featured in the NeuroJobs Career Center. Visit today to search the world's largest source of neuroscience opportunities.
Your next position doesn't have to lock you into a career path.
"There's people transitioning all the time," says Kip Ludwig, who's steered his own career through academia, industry, federal agencies, and back into research.
In this video, Ludwig draws on his experience hopping sectors to share encouragement and practical advice for transitioning into a different area of the field.
After graduate school, he was considering a neurotechnology postdoc when a friend recommended he create a LinkedIn profile. "Before I graduated, I actually started getting head hunted," he says.
He decided to forego his postdoc and took a job working on brain machine interfaces, which made him curious about how neurotechnology can commercially impact society.
"It's hard to move from proof of concept to human beings, to commercially sustainable product, so I wanted to go to industry to try to understand," he shares about his move to CVRx, a medical device startup.
As CVRx's senior research scientist, he developed an idea for a minimally invasive electrode to stimulate baroreceptors for hypertension and heart failure.
"As part of that process," he reflects, "I became interested in scientific policy."
He saw the need to create interfaces between industry and academia because, "There's a lack of knowledge about the hand-off points for how research can impact human life."
He helped create those interfaces as a program director at NIH, where he led over half the programs stemming from the BRAIN Initiative.
One program in particular, SPARC, influenced his next career move. The program aims to understand the neuroanatomy of organs in the viscera and assess them as potential targets for electrically stimulating devices.
"I was so excited by this idea, I went back into the nonprofit academic world to pursue it as a researcher."
Now, he's an associate professor of biomedical engineering at the University of Wisconsin-Madison.
Reflecting on the start of his career, he remembers being "really scared as a grad student that whatever choice I made, I'm locked into it."
But as he shares in this video, "more and more, there are examples like myself saying these lines are becoming blurred and you don't need to be that scared. It's not a final choice."
If you're considering a career change, watch this video to learn from his perspective and advice.
Speaker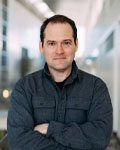 Kip Ludwig, PhD
Kip Ludwig leads the Ludwig Laboratory at the University of Wisconsin, specializing in neuromodulation, bioelectronic medicine, and electroceutical devices. The lab's primary focus is to develop minimally invasive, next-generation neuromodulation therapies to hack the nervous system, treat circuit dysfunction, and deliver biomolecules precisely to target areas. Ludwig previously served as the program director for Neural Engineering at the NIH. He co-led the Translational Devices Program at the NINDS, led NIH BRAIN Initiative programs to catalyze implantable academic and clinical devices, and led a trans-NIH planning team to develop the S.P.A.R.C. Program - stimulating advances in neuromodulation therapies for organ systems.