When This PhD Candidate Explains His Science, 40,000 People Listen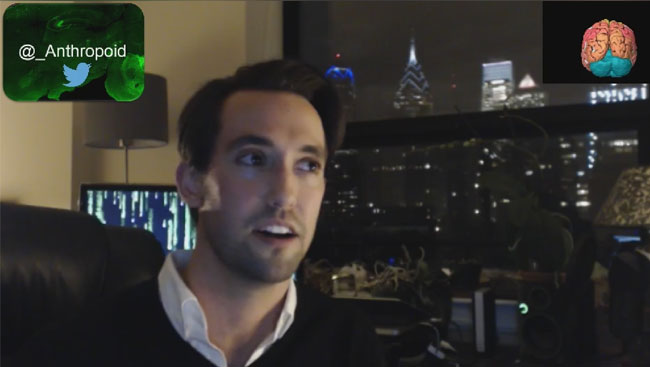 As he earns his PhD, Ian McLaughlin makes time to step beyond the bench to educate the public about the brain. His urgency to make basic research findings accessible to its funders — taxpayers — is shown through his "I'm a brain scientist, ask me anything" live chats on Periscope, award-nominated podcast, and leadership of the Penn Science Policy Group. Here, he dives into the motivation behind his efforts and highlights the tool he created to mobilize scientific and nonscientific communities around advocacy.
Why do you believe making basic research findings more accessible to the taxpayers who fund it is so important?
I've noticed over the past year and a half when engaging with nonscientists that most are unfamiliar with how and why science is conducted. Additionally, a significant number of them have never met a scientist (besides their primary education science teachers), and many can't name a living scientist.
Until I went to college, that was also my experience. For many professions, this lack of familiarity is largely inconsequential, but because fundamental science relies on federal funding from tax dollars, this lack of familiarity may translate into a feeling that hard-earned money is being wasted on frivolous efforts that yield zero results.
This has policy consequences. In the past, senators have targeted specific NIH grants as wasteful, and without advocates to communicate why these projects are meaningful, it can be difficult for someone outside of science to understand why these grants are awarded.
How has serving as a board member of the Penn Science Policy Group (PSPG) supported your goals?
The most direct benefit has been the ability to meet other grad students and postdocs interested in getting involved with science policy. I've found that grad students and postdocs are about as unfamiliar with how science is regulated and funded as nonscientists are with how science is conducted. This was certainly my experience before diving into the subject.
As more grad students and postdocs develop an interest in policy, PSPG has grown rapidly, and we're working to help them engage. For example, we've hosted prominent scientists, such as Andrew Zwicker, the head of the science education department at Princeton's Plasma Physics Lab. We're also going to run our first large symposium in April 2017 and will feature several prominent members of the scientific and political communities, including Román Macaya, the Costa Rican ambassador to the United States who has a scientific background.
While most training doesn't devote significant attention to the relationships between science, policy, and international affairs, being on the PSPG board has provided a significant opportunity to gain exposure to science policy issues.
You have over 40,000 followers on Periscope, and you also host a podcast, Wired to be Weird. Can you describe your audiences, how you engage them, and any interesting interactions?
One of the advantages of communicating on several platforms is the ability to reach different groups of people. The total audience is diverse with regards to age, interests, political affiliations, and nationalities. While the majority of viewers are from the United States, I regularly interact with people from all over the world, including Saudi Arabia, United Arab Emirates, India, Indonesia, and Europe.
Periscope, Twitter's video live streaming platform, enables real-time engagement between viewers and streamers on a broad set of topics, events, and types of content. While it doesn't quite accommodate the depth that a classroom setting can, live streaming allows scientists to discuss topics at a level that gives viewers a better understanding of — or at least an appreciation for — the complexity of a topic. I'll even occasionally live stream fluorescence microscopy to expose viewers to new techniques and data interpretation. On the other hand, a podcast supports significantly more curated and dense coverage of a topic.
One Periscope viewer is a boy in the United Kingdom who would watch with his mother when I first started using the platform. I've watched him go from asking broad questions to doing his own extracurricular science projects. I'm sure this interest would have been sparked had we never interacted, but the ability to easily and informally communicate with a scientist has perhaps made science more approachable.
What advice would you give neuroscientists looking to use online channels to share their research and perspectives on the field?
Just try it out! Social media and podcasting are more active than they've ever been.
I was surprised to be nominated for a Shorty Award, which recognizes compelling social media content. To see science-focused content be nominated alongside prominent artists and entertainers may be an indication that there is a desire for closer interaction with scientists.
Also, something that I've learned by mistake is that letting an audience guide a conversation about science can make for a very different kind of interaction, and perhaps helps to distinguish it from a lecture.
The interactive map on your website makes it easy for anyone to contact their legislators and advocate for federally-funded research. What inspired you to create this tool and how do you intend for people to use it?
I made this map because our new political norms have changed. Petitions and letters from scientists to party leadership are less effective than they were in the past. While the President's administration can make recommendations, the legislature appropriates funds for research, and many voters who consider science a priority are represented by legislators on appropriations committees.
I wanted to develop a targeted resource to help people figure out which legislators have a direct role in sculpting science policy so they can contact them. I'm hoping that science advocacy can be enhanced if we develop strategies with the structure of government and process of legislation in mind.
The day that I presented the resource on Periscope, web traffic to that page doubled — and it's continued to grow.
Overall, I want to help scientists and nonscientists understand how to communicate their priorities to their representatives in a way that yields the greatest effect possible, especially highlighting:
The differences in priorities that distinguish public and private research, and how they translate to distinct research topics, time frames, and levels of public access to knowledge
Why investment in publicly-funded research benefits everyone personally and economically
Based on your experience, how would you suggest neuroscientists make a compelling case for federally-funded research to legislators or staffers?
From what I can tell, biomedical science — and neuroscience in particular — is broadly supported.
Focusing on personal stories of how research is striving to find solutions for Alzheimer's and addiction, or allow veterans wounded in battle to walk again, has made it much easier for people to make the connection between our research and their lives.
People also tend to be surprised at the return on investment from federally funded biomedical research. Oftentimes, critics of publicly-funded research will consider this component of the federal budget to essentially be charity. I've found that communicating statistics from NIH, such as the roughly 2:1 return on investment of federal support of biomedical research, can be very effective in confronting this misconception.
Overall, how do you believe public outreach can move the field forward?
Outreach can better inform voters of the consequences of the policies they support. Second, it can help to dismantle the notion that people outside of science have little to do with it or little chance to understand its discoveries.
My sense is that there is broad, bipartisan support for neuroscience and biomedical science, but the relationship between tax dollars and taxpayers' lives is poorly understood. As a result, voter priorities aren't accurately represented in the legislature, and I think public outreach has the potential to solve this problem.
Speaker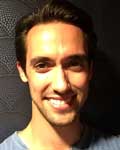 Ian McLaughlin
Ian McLaughlin is a PhD candidate in neuroscience at the University of Pennsylvania. He uses video live-streaming over Twitter, as well as a podcast, to discuss topics in neuroscience and demonstrate methods like immunofluorescence to a nonscientific audience. McLaughlin's main interests lie in how live interactions and novel communications strategies can improve both the efficiency and reach of science to communities who are currently ineffectively reached. He earned his BS in cellular and molecular neuroscience from Pitzer College.