What Is Advocacy and Why Does It Matter?
By uniting our voices, we can help to advance neuroscience research priorities and scientific discovery. Learn how legislators make decisions that can impact your work and how you fit into (and can influence) that decision-making process.
This video covers:
The difference between advocacy and lobbying.
Why your voice as a constituent-scientist is particularly valuable.
How SfN and the broader scientific community typically collaborate for a larger impact.
SfN is dedicated to helping you continue to grow as an advocate whether you're brand new or have years of experience. Learn more at sfn.org/advocacy or email advocacy@sfn.org for assistance.
Speaker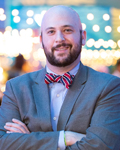 Adam Katz
Adam Katz is the Advocacy Engagement Manager at the Society for Neuroscience, where he equips and empowers researchers to engage their elected officials. He previously was a Policy and Advocacy Specialist at Research!America and an intramural postbaccalaureate researcher within the National Institute of Mental Health. Katz's main research interests lie in neural plasticity. He received his undergraduate degree in brain and cognitive science from the University of Rochester and his Master's in policy and advocacy from Georgetown University.