Three Advocates on Why They Got Involved and How to Talk to Lawmakers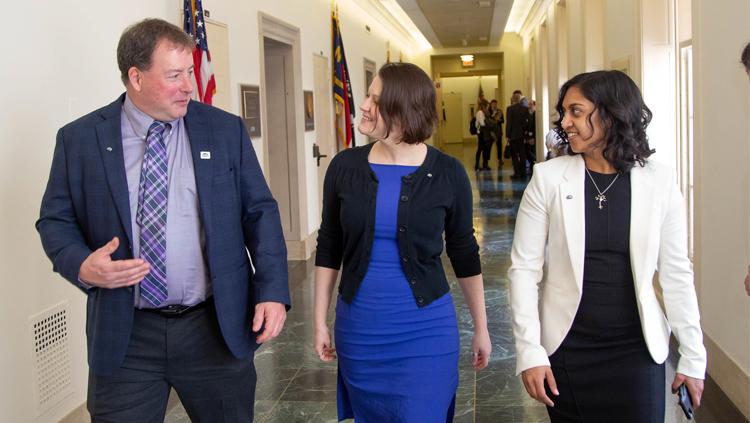 Lynn Marquis, Director of the Coalition for the Life Sciences
I worked on Capitol Hill for about eight years before moving out west, coming back, working at the Alliance for Aging Research, and finally joining the Coalition for Life Sciences. I've been with them for about 15 years now.
We're located in Washington, DC, and as advocates in that world, it's our responsibility to make sure scientists feel comfortable coming and working with Members of Congress. We help them learn how to talk about their science in ways that are understandable regardless of the last time you took biology.
Access to the full article is available to SfN members.
Neuronline is a benefit of SfN membership. Renew your membership now to make sure you don't lose access.
Speakers
Lynn Marquis
Lynn Marquis is director of the Coalition for the Life Sciences, an alliance of professional organizations working together to foster public policies that advance basic biological research and its applications in medicine and other fields. Previously she was a manager at the Alliance for Aging Research.
Monica Linden, PhD
Monica Linden is a senior lecturer at Brown University and a member of the Franklin School Committee, in Massachusetts. She holds a PhD in neuroscience, as well as Bachelor of Science degrees in mathematics with computer science and brain and cognitive sciences, from the Massachusetts Institute of Technology. She was an SfN Early Career Policy Ambassador in 2017 and is a member of SfN Government and Public Affairs Committee.
Stephanie Davis, PhD
Stephanie Davis is a AAAS Science and Technology Fellow at the National Institutes of Health, National Institute on Aging Office of Small Business Research, and a part of the 2019 class of SfN Early Career Policy Ambassadors. She holds a PhD in molecular pharmacology and physiology from the University of South Florida. With her knowledge of neuropharmacology she hopes to help small biotech and pharma companies develop new therapies for vascular cognitive impairment and dementia, Alzheimer's and Parkinson's diseases, and other aging-related disorders.