Three Advocates on Why They Got Involved and How to Talk to Lawmakers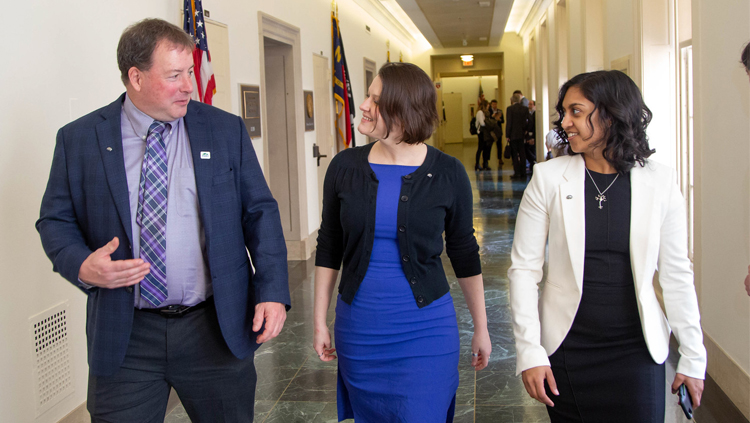 Lynn Marquis, Director of the Coalition for the Life Sciences
I worked on Capitol Hill for about eight years before moving out west, coming back, working at the Alliance for Aging Research, and finally joining the Coalition for Life Sciences. I've been with them for about 15 years now.
We're located in Washington, DC, and as advocates in that world, it's our responsibility to make sure scientists feel comfortable coming and working with Members of Congress. We help them learn how to talk about their science in ways that are understandable regardless of the last time you took biology.
Many of us don't understand what's happening in the brain, but a lot of what's happening in neuroscience is groundbreaking. When people hear about various techniques to study depression, pain management, addiction, or any other of the myriad of brain afflictions, they're genuinely interested and excited.
Most people also have conditions or have family members with conditions that are afflictions of the brain. Maybe you have a family member afflicted with depression, or your significant other is a returning veteran, or your mother has Alzheimer's. Those kinds of stories are real, and if you tell them, they'll resonate with people on the Hill.
Monica Linden, Lecturer and Member of the Franklin School Committee
I wanted to find a way to be more involved in policy decisions. I saw a posting for a program called Emerge that trains women on how to run for office. I had only three or four days to get my application in, but I decided it would be a good way to channel what I was feeling, and I did.
As part of that, you had to decide what you were going to run for. Given my expertise in how the brain works and my experience in teaching, running for a position on a school committee felt like the right fit for me. I ran in the fall 2017 municipal election, and I'm now on the school committee in Franklin, Massachusetts.
I thought I needed formal training to talk to public officials. Now, though, I don't think you do. If you're already passionate and excited about your work, it's all about sharing that excitement. Anyone can talk to their representatives and tell them what they do.
And, if you're interested in running for office and want support, 314 Action is a great organization for that.
Stephanie Davis, AAAS Science and Technology Fellow
The biggest reason I love advocacy is feeling like you have power. Sometimes experiments fail, and sometimes, especially as a graduate student, you may have to deal with a toxic lab situation. These are problems many scientists face, which can make you feel powerless.
But anyone can advocate. There's never a point where you can't do it. Anybody can call their representative and feel powerful knowing their voice is being heard.
Advocacy also teaches you a lot of transferable skills — ones that can help you no matter what kind of career you take as a scientist. You learn how to be flexible, for example. As scientists, we're taught to keep an open mind, but this truly applies on Capitol Hill. You may end up having an impromptu meeting in a hallway.
You learn how to communicate, and how to read the room. When you're giving a poster or oral presentation at a conference, your goal is to connect with your audience, and nothing is more true than when you're talking to legislative staffers, trying to make them understand why you're there and feel what you're feeling. It's one thing to be able to talk about your work to your peers, but it's another to be able to show people making laws why neuroscience research is so important.
Speakers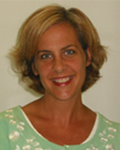 Lynn Marquis
Lynn Marquis is director of the Coalition for the Life Sciences, an alliance of professional organizations working together to foster public policies that advance basic biological research and its applications in medicine and other fields. Previously she was a manager at the Alliance for Aging Research.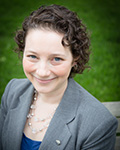 Monica Linden, PhD
Monica Linden is a senior lecturer at Brown University and a member of the Franklin School Committee, in Massachusetts. She holds a PhD in neuroscience, as well as Bachelor of Science degrees in mathematics with computer science and brain and cognitive sciences, from the Massachusetts Institute of Technology. She was an SfN Early Career Policy Ambassador in 2017 and is a member of SfN Government and Public Affairs Committee.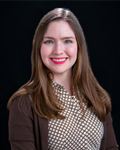 Stephanie Davis, PhD
Stephanie Davis is a AAAS Science and Technology Fellow at the National Institutes of Health, National Institute on Aging Office of Small Business Research, and a part of the 2019 class of SfN Early Career Policy Ambassadors. She holds a PhD in molecular pharmacology and physiology from the University of South Florida. With her knowledge of neuropharmacology she hopes to help small biotech and pharma companies develop new therapies for vascular cognitive impairment and dementia, Alzheimer's and Parkinson's diseases, and other aging-related disorders.