Q&A: Why This PI Prioritizes Outreach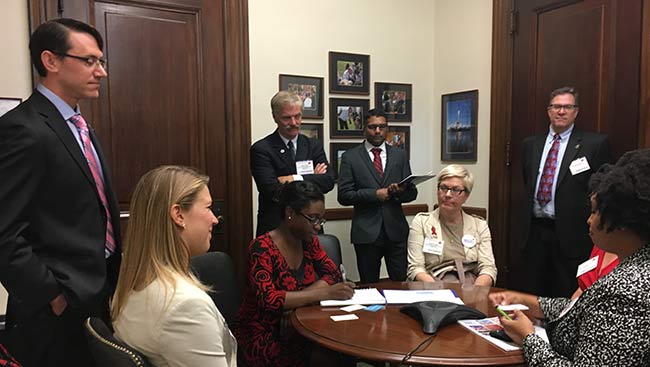 In addition to running a laboratory at the Virginia Tech Carilion Research Institute (VTCRI), Mike Fox devotes his time to a wide range of outreach activities: involvement with professional societies, advocating for science at the federal level, attending and presenting public lectures, judging local and state science fairs, and mentoring high school students.
Here, he reflects on how such varied involvement has enriched his career and personal life, and gives advice for others looking to get involved.
What type of outreach do you enjoy most and how has your involvement benefited your career?
I choose to be engaged in many types of outreach, so it probably goes without saying that I enjoy and value each of these experiences. My answer to which I enjoy "most" depends on what day you ask, but today I would say outreach in my local community is most rewarding.
I am fortunate that my laboratory is in a new state-of-the-art institute in Roanoke, Virginia — a city that did not have a major academic research enterprise before VTCRI. Although cutting-edge translational science research is new to Roanoke and might seem bewilderingly complicated, our local community has embraced us and is extremely interested in learning about our science. Large turnouts make public engagement through science talks and festivals rewarding and exciting.
It is clear that engaging the public is beneficial. Our events have fostered strong connections between scientists and the community and increased nonscientists' scientific literacy, and provided unique opportunities for young people to become engaged in science, which hopefully inspires them to pursue STEM-related careers.
Although the types of outreach I do varies, they all benefit my career in a similar way: helping me frame and present the bigger picture takeaways of my research in a compelling way to my audiences.
You've attended SfN's Hill Day multiple times. How would you say your experiences, relationships, and impact have evolved?
The first time I participated in SfN's Hill Day was an eye-opening experience. I was surprised by some of the misconceptions about science funding and was nervous about meeting my representatives.
But, I shouldn't have been. Meeting with representatives and staffers is invigorating and, in almost all cases, they are excited to learn about our science, the economic and social impact on our local communities, how our discoveries translate into improved health outcomes, and the state of the U.S. science pipeline. I have never visited an office that was disinterested in neuroscience or biomedical research, which goes to show that improving health and creating good-paying STEM jobs are truly non-partisan issues.
Over the past five years, my return visits to congressional offices have not only honed my skills in presenting the broad impacts of my science, including its impacts on Roanoke, but have also built relationships with legislators and staffers that have led to laboratory visits at my institution and discussions in my home district.
Good relations with our congressional offices help create a space for dialogue so we can be resources for our legislators.
Based on your experience, how can other scientists best frame their research to resonate with the communities they're engaging, whether they're meeting with lawmakers or the public?
These conversations are certainly audience-specific, and each conversation needs to be tailored uniquely. But in general, making the science we do accessible and understandable is key.
We are fortunate that currently there is great interest in the impact of neuroscience research and that our audiences — lawmakers and the public, including middle and high school students — are eager to learn more. The challenge is to present our science and discoveries without jargon.
Impactful engagement is a critical step for scientists at all levels, and we must feed our audiences' interest by appropriately framing discussions about the short and long term impacts of our research, whether those are health, knowledge, or economy-based.
In what specific ways do you encourage students and other scientists to find the best form of outreach for them and stay involved?
In many ways, graduate students and trainees have far more options today than ever before.
Some of the most common ways to get involved include:
Joining your local SfN chapter.
Participating in Brain Awareness Week activities and/or local science festivals.
Volunteering at local schools or as science fair judges.
Advocating at the state and federal level through SfN's Capitol Hill Day, the Coalition for Life Science Capitol Hill Day, or meeting with representatives.
Attending a public talk or a "pub talk" such as Nerd Nite or STEM Tavern.
Mentoring high school students in the lab and helping to inspire a future generation of scientists.
I view my job as a mentor to ensure that all of my trainees participate in some aspect of outreach. While I provide examples of options, ultimately each trainee has to choose what they think will be most rewarding and — this is now the PI in me speaking — most compatible with their work in the lab.
Speaker
Michael Fox, PhD
Michael Fox is the director of the developmental and translational neurobiology center at the Virginia Tech Carilion Research Institute.