How to Prepare for and Conduct a Meeting With a Congressional Office
Face-to-face meetings with members of Congress or their staff are the most effective way to convey the importance of biomedical research funding. Learning the specifics of what to do before, during, and after a meeting will help you see how to make a lasting impression and foster a relationship with your representatives.
This video will cover:
How to prepare for a meeting, effectively execute, and then follow up.
Ways to structure the conversation around what Congressional offices find valuable.
The importance of developing relationships with your member of Congress.
SfN is dedicated to helping you continue to grow as an advocate whether you're brand new or have years of experience. Learn more at sfn.org/advocacy or email advocacy@sfn.org for assistance.
For more advice, explore these resources:
Why Doing Local Advocacy Supports Federal Funding
How to Engage Your Members of Congress
Speaker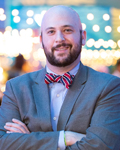 Adam Katz
Adam Katz is the Advocacy Engagement Manager at the Society for Neuroscience, where he equips and empowers researchers to engage their elected officials. He previously was a Policy and Advocacy Specialist at Research!America and an intramural postbaccalaureate researcher within the National Institute of Mental Health. Katz's main research interests lie in neural plasticity. He received his undergraduate degree in brain and cognitive science from the University of Rochester and his Master's in policy and advocacy from Georgetown University.