Deep Brain Stimulation: Patient Impact and Continuing Research
Animal models are essential to the development of life-changing medical devices and technologies.
Deep brain stimulation (DBS), for example, used to treat brain disorders such as Parkinson's and dystonia, developed out of what clinician-scientist Alexandra Nelson calls a "discovery-based approach" to research. It's helped countless patients including John Downey, who lives with a form of early-onset dystonia called DYT1.
In this video, Downey shares how DBS gave him "a second life" and emphasizes the necessity of animal models — and the work animal researchers do — in allowing him that. Nelson, who works with mouse models to understand movement disorders, notes that clinical research in humans and animal research have complementary roles.
"What's really critical is that the researchers who are investigating disease mechanisms and treatments in humans be communicating constantly with those investigators who are using animal models," she says.
As our understanding of the brain grows, so will the potential of animal research to fundamentally change human lives — not only refining and expanding applications of DBS, but leading to new patient and health outcomes beyond what we can imagine.
"There's so much more potential for treatments like DBS, but also more targeted pharmacological therapies for movement disorders and psychiatric diseases for which we don't have any satisfying treatment at present," Nelson says.
This video was inspired by the Animals in Research Panel at Neuroscience 2019, supported by the National Primate Research Centers.
Speakers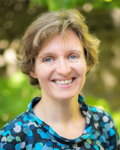 Alexandra Nelson, MD, PhD
Alexandra Nelson is the Richard and Shirley Cahill Endowed Chair in Parkinson's Disease Research at the University of California, San Francisco (UCSF). She is a neuroscientist and neurologist, particularly interested in understanding the physiological basis of movement disorders. Her laboratory uses a combination of mouse models of disease, electrophysiology, and neural stimulation techniques, including optogenetics, in the hopes of identifying the specific brain regions, cell types, and patterns of activity that give rise to abnormal movement. After her undergraduate work at Stanford University, she completed MD/PhD training in neuroscience at the University of California, San Diego. She completed her residency in neurology and postdoctoral fellowship training at UCSF and the Gladstone Institutes.
John Downey
John Downey is a board member of the Dystonia Medical Research Foundation, which advocates to advance research for more treatments, promote awareness, and support the well-being of people affected by dystonia.