Bringing Neuroscience to Congress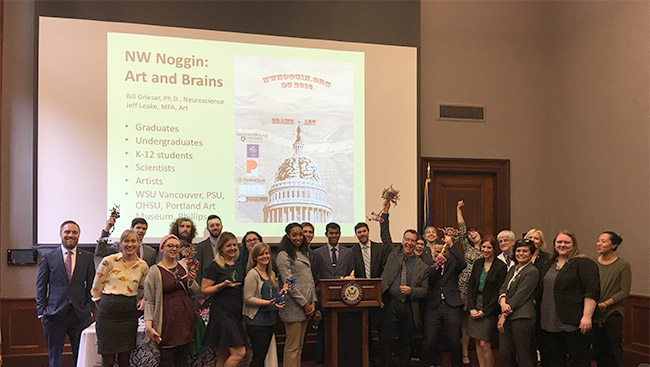 NW Noggin is an arts-and-science integrated outreach program that targets underserved communities in the Portland metropolitan area. Teams of artists and scientists from universities collaborate to create art-based science projects that illustrate complex scientific concepts in ways that non-experts can understand.
Recently, NW Noggin traveled to Washington, DC, to participate in a "Briefing with Brains," a week-long series of events intended to inform members of Congress about the outstanding research and outreach efforts being made in the Pacific Northwest.
Here are highlights from our meetings with Congress and helpful hints to promote outreach in your community.
1. Be Proactive
If you have a goal in mind, chase it.
A "Briefing with Brains" started as a kernel of an idea that a lot of people believed in and then pursued. If you are involved in group, project, or cause that you want to share with Congress, don't wait for an invitation.
Starting with these contacts can produce good leads:
2. Practice Speaking to a Non-Expert Audience
If people don't understand the work you do, they won't be able to appreciate or find value in it. Often, as scientists, we use jargon-filled language to describe our work, and this alienates people and mystifies the field.
Before you speak to members of Congress, practice explaining your research to a lay audience. Your research should be as clear to an expert as it is to kids.
Using simple, straightforward language and practicing the descriptions of your research will ensure that your audience — regardless of their level of expertise — can understand what you do.
3. Plan Ahead
Government buildings in Washington, DC, are busy places, so make sure you leave extra time in your schedule to anticipate events and issues outside of your control. My suggestions are to:
Research security checks. Leave plenty of time to enter buildings so that you are on time.
Make sure you have a current, government-approved form of ID on you at all times.
Complete any required background checks for each office. Entry into the White House Complex requires a background check online prior to your visit.
4. Make It Hands-On
Bring props! It's easier for people to understand complex concepts when there's something tangible in front of them that demonstrates the ideas.
For example, we partnered with the American Brain Coalition to have actual human brains at many of our events, but we also brought pipe cleaners so people could make neurons and plastic models of brains, along with interactive software that allows people to "look inside" the brain. Talking to people without any visual aids is a sure way to lose their attention, so keep people engaged with dynamic displays.
What experiences have you had performing outreach? How have you shared your research within your community or beyond? Share your stories in the comments below.
*Photo provided by NW Noggin.