Align Your Advocacy Message for Global and Regional Impact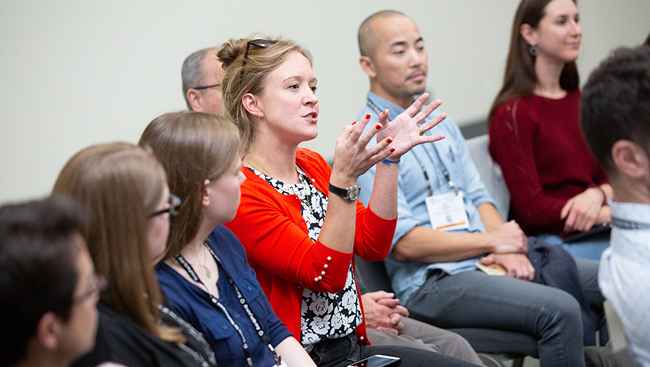 Lars Kristiansen, the executive director of the Federation of European Neuroscience Societies (FENS), leads neuroscience advocacy conversations and initiatives across 33 European countries. Here, he highlights the advocacy culture around Europe as he shares ways all scientists can become stronger advocates — coordinating knowledge to develop a unified message, preparing for your country-specific context, and gaining public support for science through clear and compelling outreach.
Brain disease is a global societal issue. How should that knowledge impact regional advocacy efforts?
As scientists involved in advocacy, it's important to coordinate messaging and align it to the global agenda.
We don't have global decision makers, but there are certainly global drivers that impact science funding. It's not a coincidence you see large scale brain initiatives arise at approximately the same time in Europe, the United States, and elsewhere.
Conversations between these large initiatives drive the agenda of what's needed on a global scale to understand brain disease. Those drivers lead us to identify the topics that we as a community — within our regional context — will be able to take up and advocate for.
To do that effectively, we need to coordinate knowledge.
After you have an aligned message on global issues, they can be presented regionally in different ways, but they should never be counterintuitive. That's why it's important to exchange good practices and learn impactful ways of preparing material from each other. Ultimately, that will lead to a louder voice.
In Europe, we have prepared documents on the cost of brain diseases, which we prepared for the European Brain Council. Those can also be broken down into the national impact. That helps researchers prepare their points so they're aligned with the global message, but are relevant in a discussion with national decision makers.
What goes into a strong advocacy message?
Advocacy is not just having good connections. Your message should identify a problem and then present a solution to that problem based on facts.
What is your problem? You want more funding. Why do you want more funding? What will that accomplish? Prepare yourself for your context and make that scenario relevant and interesting to be convincing.
In Europe, the advocacy context can differ by country. Some countries have a tradition for being vocal and active as a scientific community, but not all.
If your national leadership is already convinced that science is important, then we're not advocating just that we should have science. Instead, we have to make the case for what to invest in by identifying the country's needs.
However, in other European countries, you'll have to make the case that it's important to support basic science at the national level if policymakers aren't aware of its value and only see it as expensive.
How do European funding mechanisms impact advocacy messaging?
We essentially have two different discussions since there's national funding and European funding. You have to address the two different levels, but some of the same information will transfer between them.
There's a new European framework program which funds research in Europe for a seven-year period. As advocates, we have to think through the structure of that new program and how it'll prioritize different types of research — knowledge-generating research versus innovative research with a societal impact.
Those discussions at the European level inspire the discussion at the national level since we have national representatives sitting in Parliament. The European Commission will propose a budget, but the Parliament, made up of national politicians, will approve it.
Because of that, we have to make sure the discussion happening at the European level informs the national level. Conversely, we need to determine what's important at the national level because we may take that to the European level. Ideally, there is an exchange of information between the two levels. Part of FENS' role is following those discussions and making sure there is a vehicle for exchange.
How can public outreach support advocacy efforts?
As scientists, we have a responsibility to get background level of knowledge about the relevance of the brain higher up in the general discussion. That's where these day-to-day interactions are important. Scientists need a scientific and nonscientific elevator pitch. It's important we're able to inspire and inform the public about the brain without making the topic too complex.
Everybody can be fascinated about the brain. It's who we are, and it guides everything we do. When the brain doesn't work, it causes a lot of problems that affect many people in our society.
Discussing these issues makes us realize that it's a growing challenge we must take seriously. Getting nonscientists sensitized to that will naturally bring the attention of policy makers to watch those issues.
How and why should a new advocate get involved?
The first step is to get involved with your national society. In most cases, they will have advocacy tools and programs available, and it'll be valuable to be part of a group that knows how to prepare a message. Depending on your time and willingness to engage, you can help lead discussions within the society. They're always looking for people who are dedicated and can volunteer time and voice power.
Getting involved in your national society will also give you access to national brain councils, which are new developments across Europe. They're constellations of broader groups — scientists from all levels and fields, national societies, and even patient groups. It makes a lot of sense to speak on behalf of a societal problem, not only on behalf of scientists. It's a huge asset if you can involve patients in presenting those issues.
What career impacts can advocacy make?
Before I was involved with FENS, I wasn't active in any type of advocacy. But now I've seen that the more you get involved, the more you realize the potential you have to make an impact. It's inspiring. Also, scientists bring credibility to advocacy, so there's no way around it: Scientists have to provide the message.
Advocating also helps you see clearly the impact your daily research has on society. When you're involved in knowledge generating science especially, you don't always see its immediate effect clearly. Seeing that value chain and the way understanding travels up to decisionmakers has been inspiring. It motivates me to formulate the importance of research in a simple manner to the public, the decision makers, or those designing programs at the European Brain Council. At FENS, we're not doing this advocacy work in a vacuum. I'm continually inspired by the way we work together with other organizations at the national, European, and global levels.
Speaker
Lars Kristiansen, PhD
Lars Kristiansen is executive director of the Federation of European Neuroscience Societies (FENS), where he advocates the importance of brain awareness and research both in Europe and globally. Prior to his appointment as executive director in 2012, he served as a science officer of medical sciences for the European Science Foundation and was a senior scientist at Bispebjerg University Hospital, in Denmark.