Advocate to Appropriate: Getting Started in Science Policy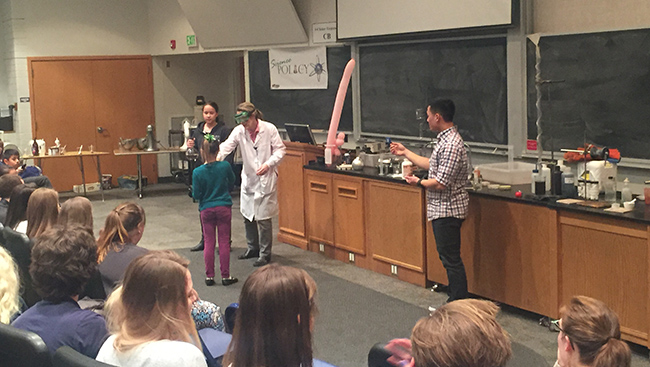 Before becoming an SfN Early Career Policy Ambassador (ECPA), I had no experience with science policy advocacy. This is probably why I was surprised when in 2016, while attending SfN's Capitol Hill Day, I discovered how difficult it would be to persuade my Utah representatives to support pro-science policies.
Following this experience, I realized that my advocacy goals would require implementing four principles:
Strength in Numbers
Creativity
Action
Perseverance
Strength in Numbers
Biomedical and basic science research are important aspects of society — few would need convincing about that. In fact, it is one of the last remaining bipartisan efforts. The real question is: how much should our government invest in this cause?
Unfortunately, there is not currently enough funding to support the amount of work that needs to be done. Many of us rely on policies that increase resources for research as a form of employment, a means of funding our research, or as a hope that one day our loved ones will have cures for their illnesses.
This is why finding individuals to support your cause will not be difficult. But, it might be difficult to help people get started, so here are some ideas:
Start a petition.
Create a blog, website or Facebook group where people can easily get organized and discuss the issues.
Start a club.
While at Brigham Young University (BYU), I decided that creating Science Policy Club would be a great place to start, considering we would have university resources to help support us.
Starting a club gives inexperienced advocates the opportunity to learn more about the issue, feel like they are part of a greater community of advocates, and become involved. Not to mention that the more constituents you have rallied behind your cause, the more likely your representatives will listen. This is why there is strength in numbers.
Creativity
Writing letters and sending emails are effective advocacy tools. But, there are only so many letters and emails that you can write before you go crazy. Try something that will stand out!
One of our most creative advocacy efforts came in the form of getting people to write St. Patrick's Day postcards to policymakers. This was a hit on our campus, mainly because it was a simple activity and easy to write a few sentences about the issue. We were able send more than 100 post cards from students, professors, and members of our community.
Another one of our more creative outreach efforts involved a photo booth. We took pictures of students and faculty holding signs in support of research while standing next to pictures of our representatives. We then emailed these pictures to our representatives.
Action
One of your best tools when advocating for science policy, or any cause for that matter, is showing how much you care about your cause by taking action.
Our Science Policy Club hosted two successful fundraisers where we raised money for biomedical research through the Ann Romney Center for Neurological Diseases and the Michael J. Fox Parkinson's Foundation.
At these events, we performed a chemistry magic show and sold liquid nitrogen ice cream. Following the events, we shared pictures and a summary of the events with our representatives.
In addition to raising money and advocating for science, we involved the community in our advocacy efforts, rallying them towards our cause, which reflect my first advocacy principle, strength in numbers.
You can also make a difference in science policy at a state level. Get to know your local representatives and ask them to support science policies. Currently, the Science Policy Club is working with the Utah Legislature on a bill that will allocate money procured from DUI fines to addiction centers and funding awards for Utah scientists working on addiction research.
Perseverance
Advocacy is difficult. It's just the nature of the process. It was extremely discouraging when my representatives would cancel our appointments for a lab tour. However, we didn't let small setbacks discourage us from achieving our larger goals to grow representatives' support for increased funding to biomedical research.